Greetings Corrupted force,
Results for the 2nd Clan Prize event.
Congratulations to Winners of the 2nd Clan Prize Event Shout outs to 1st Rafanrose 2nd rattrap98 and 3rd ramzist.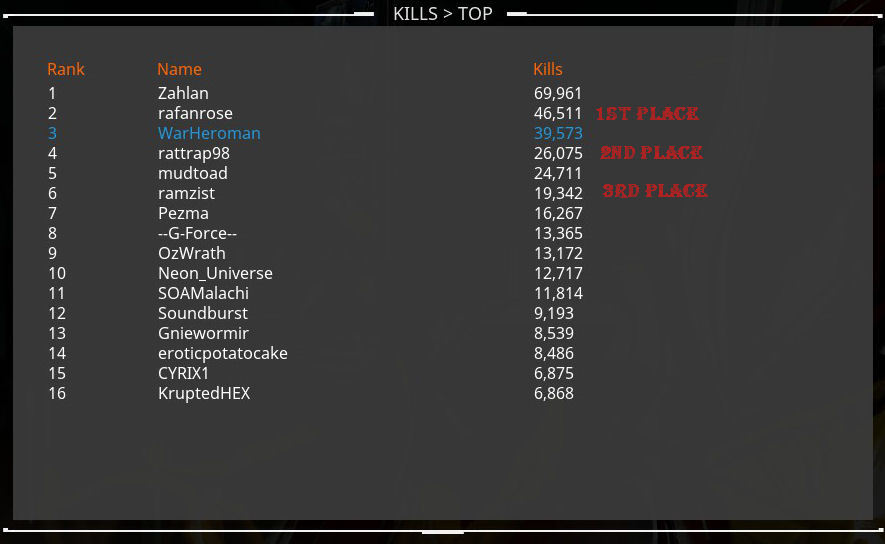 1st Place Rafanrose Where's my Suit and Tie - Your choice of 1 of these Frames Loki Prime/Nova Prime/Volt Prime + Orokin Reactor + 3 Day Affinity Booster.
2nd Place rattrap98 Lock and Load - Your Choice of 1 of these Weapons Soma Prime/ Vasto Prime/ Reaper Prime/ Latron Prime + Orokin Catylst +3 Day Affinity Booster.
3rd Place ramzist Spectacles wallet watch – Your Choice of any 4 Corrupted mods + Potato Pack Catalyst  & Reactor + any 4 x T4 Keys.
Contact me in game anytime to claim you awesome prizes cheers and thankyou for those that participated and registered on the forum.
Unfortunately again some Players missed out on the prizes this week due to not being registered on the forum even though they had the high score maybe next time guys.